The new Regional Team (2016-2019)
The administration of the Region is carried forward by the Regional superior and her team. The  Regional Assembly  is the significant moment of our Region to discern the ways we are asked to respond to God`s calls of the new realities. A great moment to celebrate together what God has done and doing among FDP. Annual retreats, seminars on different  circumstances are the other resources to enrich our spiritual building.
In February 2016,  the Superior General with the consultation of the sisters of the  Region appointed  the new Regional team for the next  3 years.
                                                                        Sr. Mary Thumbalan              – Regional Superior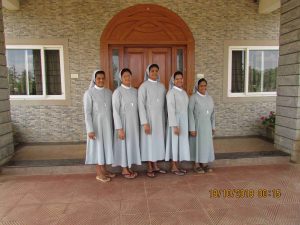 Sr. M. Reena Puthenpurackal                 – First Councellor
Sr. M. Shanty Panamattathil               – Second Councellor
Sr. M. Lilly Urakkadan                       – Secretary
Sr. M. Valsa Puthenpurackal              – Treasurer.