Silver Jubilee Celebration of Sr. Reena Puthenpurackal on 8th September 2018
"My Soul glorifies the Lord"
Today is a great day for our Congregation as it is marked with a triple celebration. As the  entire church celebrates the birthday of Mother Mary we the  Daughters of Divine Providence celebrates the Birthday of our Congregation too. In the year 1832 Maria Elena Bettini together with other two girls gave initiation to our Congregation with the help of Fr. Thomas Manini a Barnabite Father. We are privileged to celebrate the Silver Jubilee of Sr. M. Reena Puthenpurackal  on this significant day of our institute, her faithfulness  to the Lord for the past 25 years.  On this memorable  day Sr. Reena stands before the altar with folded arms rendering her heartfelt gratitude to God for the grace filled year with the words of Mother Mary 'My soul glorifies the Lord.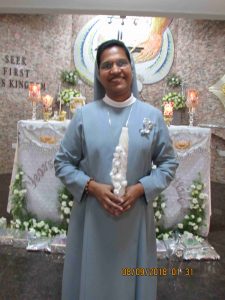 We  join with  our jubilarian  to thank God for his faithfulness and unconditional love extended to her during the past 25 years of her authentic religious life, her dedicated service to our Congregation and to the people of God. We appreciate your commitment and dedication of your vowed life. Your deep faith has enabled you to live your  vocation  in a variety of roles which you fulfilled with dedication and responsibility.
 OF RELIGIOUS PROFESSION
      Celebrating God's Love and Fidelity through 25 Years!
"If I count the goodness of God, they would be more than the grains of sand on the sea shore".
A quarter century ago I, a maiden of tender years knelt before the alter of God to receive the habit of the Daughters of Divine Providence . In the furnace of my love for God, the triple band of  Poverty, Chastity and Obedience around my heart, which was to bind me henceforth irrevocably to God, I turned to Christ, my heavenly Bridegroom and said: "Thee alone will I love. Thee alone will I always serve".
Looking back over 25 years as a FDP sister, my soul and heart rise in wonder and gratitude.  25 silver years shine, radiant and promising. Jesus has proven His fidelity to me both over and over again, leading me closer to His heart in intimacy with Him and letting me experience that hundredfold in His very own mission of evangelization. At the outset, a symphony of gratitude from me rise to the Lord, for His great kindness and generosity to me, for having gifted me with life, Christian and Religious vocation and for His never- failing, ever -present fidelity.
The centrality of any jubilee celebration is not individual's achievement but rather a grateful celebration of Gods' gratuitous call and His constant accompaniment in our life. Everything is a grace from God. It does not matter to God whether we deserve it or not, God's grace flows into our lives abundantly.
As I reached my silver jubilee and moves into a new spiritual landscape, I realize that the last 25 years have been for me a journey of discovery and wonder. I realized now how little I knew then and how much less I know now about the wonder and unfolding of life experiences. I have encountered the most wonderful people along the way.  I thank God for all those people who have been part of my journey.
Let me end this column with the thought-provoking lyrics from the psalm: " I will sing forever of Your love, O Lord".